BAE Systems, 'Submarine Solutions, The Delivery of the Successor Deterrent Submarine Concept Design.'
BAE Systems, 'Air Vehicle Planning System.'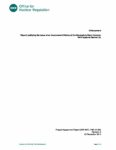 Report justifying the issue of an Improvement Notice at the Devonshire Cock complex, BAE Systems Marine Ltd
'Report justifying the issue of an Improvement Notice at the Devonshire Dock Complex, BAE Systems Marine Ltd'.  Project Assessment Report ONR-BAE-PAR-14-023.  3 December 2014.
'Trident Alternatives Review and the future of Barrow'.  Independent Survey and Research.  Volumes 1 and 2.  Nuclear Education Trust, December 2012.
'The United Kingdom's Nuclear Submarine Industrial Base'.  RAND Corporation.  Prepared for the United Kingdom's Ministry of Defence.  2005.
'Volume 1. Sustaining Design and Production Resources'.  John F. Schank, Cynthia R. Cook, Robert Murphy, James Chisea, Hans Pung, John Birkler. 
'Volume 2.  Ministry of Defence Roles and Required Technical Resources'.  John F. Schank, Jessie Riposo, John Birkler, James Chisea.
'Volume 3. Options for Initial Fuelling'.  Raj Raman, Robert Murphy, Laurence Smallman, John F. Schank, John Birkler, James Chisea.
By continuing to use the site, you agree to the use of cookies. More information
The cookie settings on this website are set to "allow cookies" to give you the best browsing experience possible. If you continue to use this website without changing your cookie settings or you click "Accept" below then you are consenting to this.